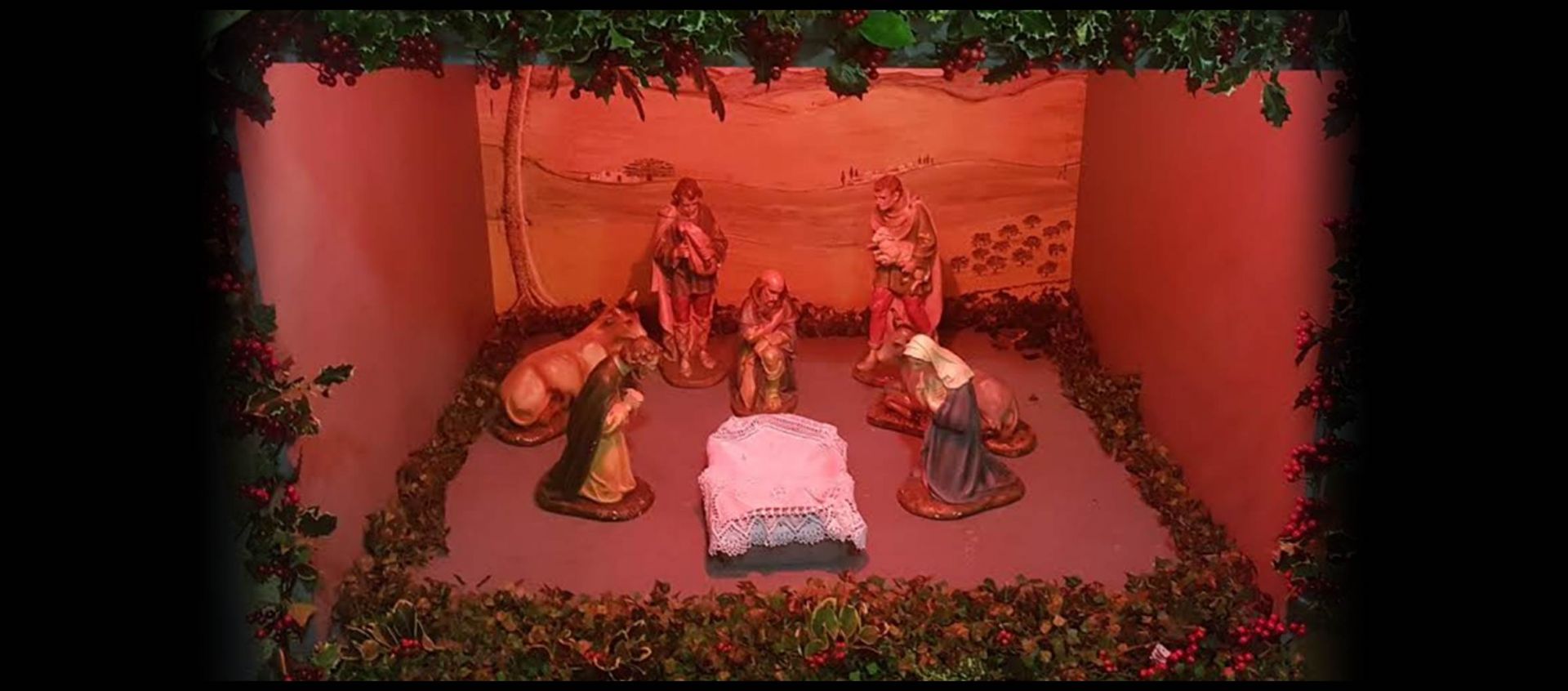 When you visit St. Patrick's in Monkstown, you will notice that our crib has been installed in a new location this year.  It is on the right hand side, beside the shrine to St. Therese.  We thank Breda and Kieran Flynn for their work in building the crib.
The following has been produced by the Diocese of Ferns. It is a nice prayer that can be said at home in front of your own crib and it would be very nice moment of prayer to share with your children.
WELCOME
This will be a different Christmas at the end of a very different year. Christmas 2020 will not be as we expected or perhaps hoped. Yet Christmas is not cancelled for its meaning remains the same. Christ was born into an imperfect world and into uncertain times like ours today. Christ is born again this Christmas and we welcome him into our world that he comes to save.
The following are suggested prayers for all families at key moments at Christmas. May the Lord find room in our lives and homes this Christmas.
THE CHRISTMAS CRIB
As we look at the Crib, we can see the Christmas story come to life. All the different characters who were so important that first Christmas are here, and each of us can be represented there too.
If you have a Crib, you are invited to place the pieces into it one by one, using the following prayers to help you. Christmas reminds us that 'God is no longer hidden but visible, no longer distant but near, no longer a notion but a person' May we grow closer to the person of Jesus who is at the heart of Christmas and who is very visible and very near if we only had the eyes to see.
The Manger:
Jesus was born in a stable and then laid in a manger which was used to feed animals. We pray for all those who are poor and don't have their own homes. We also pray for those who are hungry. Lord Jesus, help us to help those who are most in need at Christmas time.
Lord hear us.
The Donkey:
Mary was carried on a donkey as herself and Joseph travelled to Bethlehem. We pray for all those who carry us when we need to be carried through hard times in our lives and we pray that we may remember those who need to be carried and supported the wounded, the sick, the homeless and the lonely.
Lord hear us.
The Cow:
In the cold of the night, the cow breathed on the infant Jesus to keep him warm as he lay in the Manger. Lord, help us to keep others warm with our love and our care for them.
Lord hear us.
The Star:
The Star led the way to the stable. We pray for all those who have been guiding lights for us in life – parents or teachers or priests and all who help us on the journey through life and find our way. We also remember those who are lonely or sad and those in darkness who need light and hope. Lord Jesus shine your light into their darkness.
Lord hear us.
The Shepherds:
The shepherds came to visit the stable after Jesus was born and then returned to their people with news of great joy. Lord Jesus, help us to remember to visit those who might be alone at Christmas and help us share your joy with them.
Lord hear us.
The Kings:
The three Kings brought gifts of gold, frankincense and myrrh. Lord Jesus, may we be always grateful for the gifts we receive and remember those who didn't receive any gifts this year.
Lord hear us.
The Angels:
The Angels came from Heaven to be messengers of the good news that Jesus the Saviour was born. We pray for all those who have died in 2020. We pray also for those who are missing loved ones this Christmas.
Lord hear us.
Joseph:
We see Joseph in the crib and we think of all men in our lives our fathers, brothers, sons, nephews, uncles, husbands, boyfriends, grandfathers and godfathers. Joseph had the courage of his love for Mary to stand by her. We pray for all those who look after us and we thank them for all that they have done for us.
Lord hear us.
Mary:
As we see Mary in the crib, we think of all women in our lives our mothers, daughters, sisters, nieces, wives, girlfriends, grandmothers and godmothers. Mary was asked by God to bring Jesus into the world. She cared for him as a baby and looked after him as he grew up. We pray for all those who care for us and who show us the tender mercy of God.
Lord hear us.
Child Jesus:
At the centre of the crib is the baby Jesus, born this Christmas. We remember all children. Each of our lives began as a small helpless baby, totally dependent on others. We pray for children all over the world, especially those who don't have loving families and are in danger. We pray to keep them safe and protected this Christmas.
Lord hear us.
Concluding Prayer
Jesus taught us all to call God our Father, and so we pray together the prayer he gave us,
Our Father…
When the Angel Gabriel asked Mary to be the mother of Jesus, she said Yes. We pray to our Blessed Mother that we may also be open to whatever God asks us as we pray,
Hail Mary…
The Angels gave glory to God as they sang their Christmas song. We join with them as we pray,
Glory Be..