The church is open for private prayer:
Monday to Friday from after the 10:00 a.m. Mass until 3:00 p.m.
On Saturday from 11:00 a.m. until after the 6:00 p.m. mass.
On Sundays the church will close after the 11:30 a.m. mass.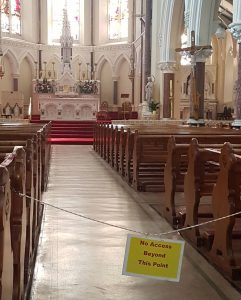 We would ask you to please observe the no access barriers that are in place. These are in place for your safety and to help minimise the cleaning required due to COVID19.
Failure to observe these restrictions may require the church to remain closed except for public worship which would be a shame.